I've been reading the events of Holy Week recently and it has given me new insight into how much Jesus felt he needed to prepare the disciples before his death. So much teaching went on that last week! I think maybe Jesus was just feeling extra protective of his disciples- time was growing short. There was so much he wanted them to know about the love of God before he left them.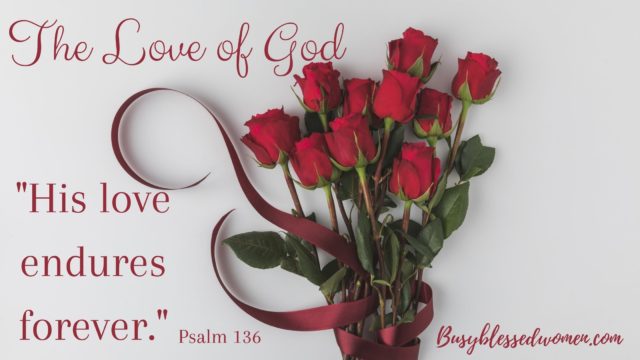 You Are Beloved
While I driving this morning, I heard a song on the radio. I had already been thinking about the topic of "love". The song is called "Beloved" by Jordan Feliz. I caught a snippet of the lyrics- "you are beloved, let it soak into your soul", and it embodied what I wanted to put into words.
Bible Verses About the Love of God
I had been thinking of all the verses I knew about the topic. I'm sure it doesn't surprise you that there are many verses on love- anywhere from about 300 to about 600 depending on the version of the Bible you read. In John's gospel, Jesus speaks of love to his disciples in over 20 instances just in Holy Week alone.
God's love for us stretches from before we were formed. He pursues us, fights for us, and searches for us all because he loves us and wants a relationship with us. And he does this every day.
Every day!
He never grows tired of us, never ignores us, never shames us, and never snaps at us in anger. Even the people in our lives that we love the most sometimes let us down, aggravate us, and speak harshly to us. God never, ever does.
Check out Psalm 136. "His love endures forever" is spoken 26 times. It's also a beautiful testimony of who God is and the works he has done. Love, kindness, mercy, faithfulness. It's forever- it's not going to stop, dry up, taper off, or come and go. His love endures forever.
Jesus Teaching on Love
Let's look at one instance during Holy Week where Jesus speaks of love. Jesus was teaching in the temple:
"One of the teachers of the law came and heard them debating. Noticing that Jesus had given them a good answer, he asked him, "Of all the commandments, which is the most important? The most important one," answered Jesus, is this: 'Hear, O Israel: The LORD our God, the LORD is one. Love the LORD your God with all your heart and with all your soul and with all your mind and with all your strength.' The second is this: 'Love your neighbor as yourself.' There is no commandment greater than these." Mark 12:28-31.
He gives us two principles to live by:
• Love God completely
•Care about others as much as you care for yourself.
These were the most important.
If they are number one and two on God's list, where are they on yours?
Just think- if we would let these two principles take over our thoughts and actions, we would be showing love for God and love for others in every aspect of our daily lives. God wants to empower us and guide us into living our lives this way!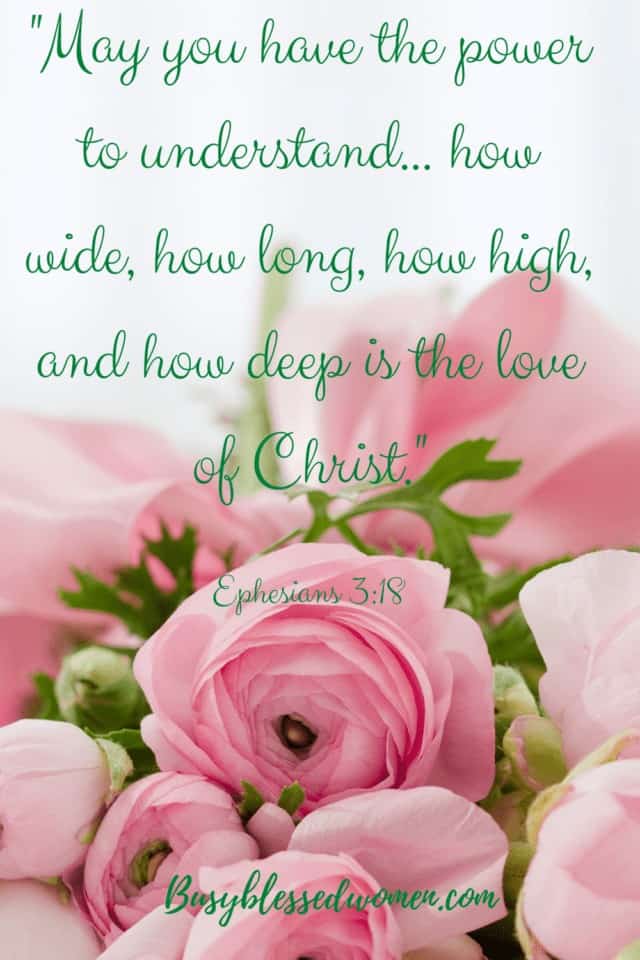 Pin me for later!
What Does it Mean to Be Loved By God?
Before we can do a better job of either one of those things though, I really want to stress that we need to totally and unashamedly accept the depth of his love for us.
We are beloved by God- that means he considers us precious, cherished, treasured, and prized.
Do you know these things in your very soul? He wants you to know this.
"Nothing can ever separate us from God's love." (Romans 8:38) His overwhelming love for us doesn't ever stop. If we start from the place of accepting how much he loves us, then those two commandments will come from our hearts.
We just celebrated Easter- the most magnificent day. It's a true love story. God created us out of love and wants us to spend eternity with him. Jesus proved his love for us by dying on a cross for our sins. What better time than right now to really let his love "soak into your soul."
Last week we reflected, we learned, we grieved, we rejoiced. Love won. Take just a few seconds, take a deep breath, ahhhhh…and picture Christ in front of you. He is looking at you and sees you with only love in his eyes. You are His child.
If He could physically take you into his arms, right now, He would. (Something to look forward to!) He doesn't see your sin or your shame. Only love. He wants you to wake up every morning and immediately think "I am beloved by God."
Sharing God's Love
And now comes the hard part!
I believe there is even more of a need in our world for Christian love than ever before. It's way too easy to type, tweet, repeat and read, well, let's call them "unlovely things." If ever there was a time for an outpouring of love, it's now. Unfortunately, we have our humanity which gets in the way. Hey, I get cranky, I've been "unlovely." We all have.
So in a practical way, how can we love others like we love ourselves?
How can we share the overwhelming love God has for us?
God did his part. He left us with the playbook, and now it's up to us. If we started every day telling ourselves that first and foremost, we are beloved by God, we can make a difference.
Blessings of Love!
AnnMarie
"And may you have the power to understand… how long, how high, and how deep his love is." Ephesians 3:18
Photo Credit: Deposit Photo, Canva