When I write blog posts, I always find myself trusting in the Lord for inspiration.  I found this shell in Haleakala Park Headquarters on the island of Maui. It's a remote little building set at 7000 feet above sea level. The shell had been placed on a table in plain sight but tucked behind another display. And it was just the inspiration and encouragement I needed for the day!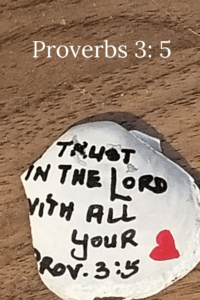 Proverbs 3:5
It looks a little worse for the wear, but the message is loud and clear. "Trust in the Lord with all your heart- Prov 3:5. I left it untouched but took a picture. My curiosity was getting the best of me. Who had left it there?  I looked around when I noticed it to see if anyone was watching me. Nope.
Was it an employee who planted it there? A visitor? Whoever it was, purposefully wrote out their message and left it in God's hands to bless whoever sees it.
Such a small thing really, and it was done in complete faith that it would bless someone else. Who knows how this simple message might touch someone who sees it?  What a great verse to leave "hanging around."
Why is it Important to Trust in God?
God is totally trustworthy! Unlike us, he doesn't make his decisions with shifting emotions or wrong motives.
Sometimes we put our trust in God and in other things as well. Kind of like hedging our bets. Extra insurance in case things don't go the way we want. We can put our whole heart into relationships, money, jobs, worries, etc. quite easily.
The second part of this verse adds,  "…and lean not on your own understanding." Yes, God gave us our brains, our common sense, and his Word. But the first two can fail us, which leaves his Word to guide us.
Trusting God in all Circumstances
Lean on God first! He knows what's best for us, loves us completely, and wants to guide us. If we know what's in his Word and embed those truths in our minds, God can impart his wisdom to us.
Don't we all want to be in God's will for our lives? Aren't we trying to be obedient to him? Living by the wisdom of this verse can help us live our lives trusting in the Lord.
Lean Not on Your Own Understanding
So, I found this shell about a week into our trip. Normally, I get ideas or "nudges" of blog topics every day. Usually more than once. We had been so busy and relaxed on vacation that I wasn't even thinking about my blog.
When it occurred to me that I hadn't had one idea come to me, I was a bit taken aback. Was God trying to tell me something?? I was spending a lot of time vacationing, not so much time communing with him.
The silence of God's nudges unnerved me. That led to a bit of doubt and questioning.  I forgot about trusting in the Lord…
And then I found the shell.
"Trust in the Lord with all your heart." A little smile crossed my face. How on earth does he know what I will need so completely?
That shell could have been long gone, taken by another visitor, thrown away, treasured, or broken. But that day, it was there for me. Sometimes I wonder if God just rolls his eyes when we doubt our trust in him…
God immediately brought this verse to mind as well: "He who began the good work within you will continue his work until it is finished" Phil 1:6. He never left me, and he gave me encouragement by bringing his Word to my thoughts.
Benefits of Trusting God
God had allowed me to release all the worries and stresses and everyday tasks and enjoy my time away. He had given me refreshment. He gave me soft sand, ocean breezes, and the sound of the waves to fall asleep to every night.
Please don't be too hard on yourself when you doubt, or act on emotion, or trust in something other than God in the moment.
King Solomon was considered the wisest man in the world. He wrote a huge chunk of Proverbs.  And even he, with all the God-given discernment and wisdom, failed in his life and forgot about trusting in the Lord.
We're a work in progress. God is carefully tending to us until that day when he takes us by the hand, dries our tears, and takes us into heaven. We can trust him.
Trust him with your whole heart.
Related Post∼ Letting Go and Trusting God
"As the heavens are higher than the earth, so are my ways higher than your ways and my thoughts than your thoughts."  Is 55:9
Blessings!
AnnMarie