I was recently reminded of the verses about building your life on the solid rock or "sinking sand." Building our lives on the solid rock foundation of Jesus allows us to weather the storms of life. We find Jesus speaking about building your life on the solid rock in Matthew 7:24-27.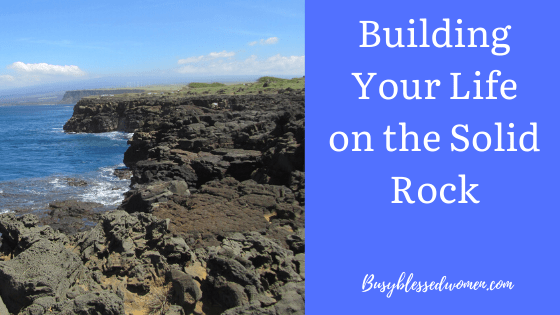 Rock in the Bible
But first, let's look at some references to the word "rock." When I looked it up in my concordance, I was surprised at how many entries there are. You'll find it everywhere from Genesis to Revelation! I had no idea that this simple word was of such great importance.
In Genesis 49:24, Jacob describes God as "the Rock of Israel" whom Joseph relied on when he was persecuted.
In 1 Samuel 2:2, the prayer of thanksgiving Hannah offers to God says, "There is no Rock like our God."
David sang a song to God when he was delivered from his enemies. "The Lord is my Rock, my fortress and my deliverer; my God is my rock, in whom I take refuge"- Psalm 18:2.
I see the attributes of God emerging in the metaphor of the rock: solid, strong, protective, secure, immovable, firm, and enduring. It sounds like the perfect foundation to build our houses (lives) upon.
The Solid Rock
Now let's move on to Jesus' parable of building your life on the solid Rock and see how that fits into this Old Testament metaphor of Rock.
This parable was Jesus' last teaching in his Sermon on the Mount. Just previous to this, Jesus warns the religious leaders that just talking and sounding religious does not save you eternally.
The Wise and Foolish Builders
He continues, "Therefore everyone who hears these words of mine and puts them into practice is like a wise man who built his house on the rock. The rain came down, the streams rose, and the winds blew and beat against that house, yet it did not fall, because it had its foundation on the rock. But everyone who hears these words of mine and does not put them into practice is like a foolish man who built his house on sand. The rain came down, the streams rose, and the winds blew and beat against that house, and it fell with a great crash." Matthew 7: 24-27.
House Built on a Rock
I always assumed that Jesus' main point was that we have to "build our house" (our life) with faith in Jesus as our foundation. Yes, that is true.
I'm building on the Rock. Jesus is the cornerstone of my life.  His supremely important position as Cornerstone guides every aspect of my life.
It was that one sentence that jumped out at me in a new way: "everyone who hears my words and puts them into practice."
Just standing on the Rock isn't enough.
Building your Life on the Word of God
A committed relationship with Jesus means we will trust him completely. We must obediently follow his commands. We must live our lives seeking to learn more about him and becoming more and more like him. 1 John says it best: "Whoever claims to live in him must live as Jesus did."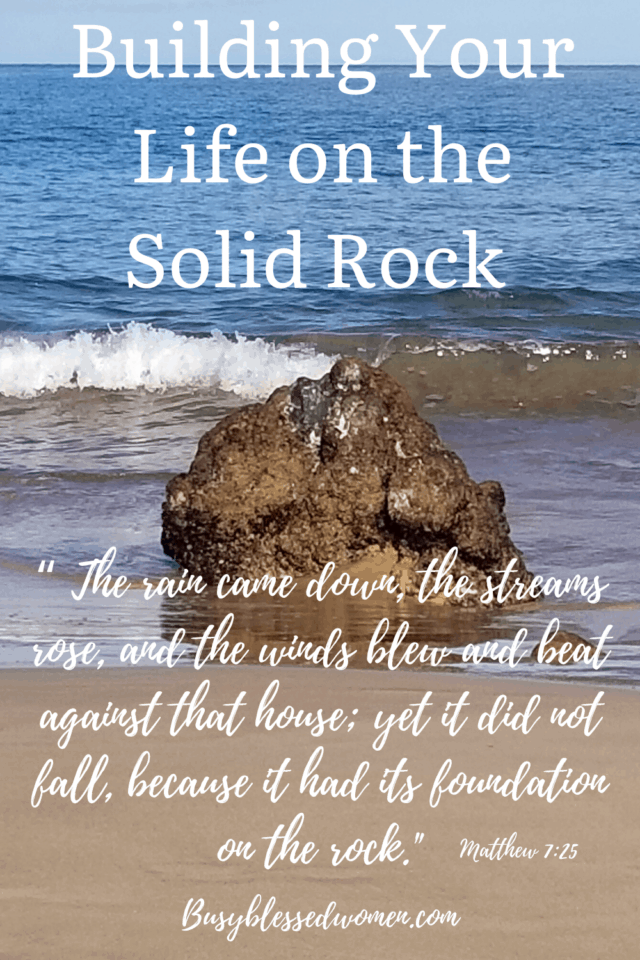 House Built on Sand
Let's check in on the "foolish man" Jesus speaks of. His sandy foundation is unsteady and likely to suffer damage in a storm.
Why? Because he heard Jesus speak and did not put Jesus' words into practice. His life is not firmly grounded on living a life that follows Jesus.
There is no rock-solid trust in the security God provides. He is missing the enduring love and care God has for him.
Building on Sand
When the storms come to the houses built on sand, they wreak havoc. Jesus says it will "fall with a great crash." Notice that in the parable, Jesus didn't say IF the storms and winds come, but WHEN they come.
If the skies are blue and the winds are calm, any house will stand. But when the storms arrive in the form of troubles, pressures, suffering, and stresses, they can destroy a house built on sand.
There is nothing firm to anchor the house upon when your foundation is sandy.
A life built on shifting and changing emotions or worldly virtues or morals is not solid.
No wonder the storms crash and destroy those houses.
Why do some choose the sandy, unstable foundation in their lives? Maybe it's that they just don't really think much about building a life around Christ. It's possible they have heard, but just don't follow through.
Others might just want to stubbornly hold on to their home on the sand because they like the status quo. Some might think that building a life on Christ involves too great a sacrifice.
As Christians, we know that building your life on the solid Rock of Jesus is not burdensome. He gives us complete assurance and peace.
The Rock of Jesus
No matter the storm, we always have the hope, love, and enduring rock of Jesus to seek shelter in.
Jesus invites us to "come to me, all you who are weary and burdened, and I will give you rest. Take my yoke upon you and learn from me, for I am gentle and humble in heart, and you will find rest for your souls. For my yoke is easy and my burden is light." Matthew 11: 28-30 (NIV)
Doesn't that sound like a life worth building upon?
We each build our own lives. If we commit to building a life on the rock of Jesus and his teachings, we are certain to be strong. He promises us the secure, immovable, enduring love of God. Nothing can move us when we are firmly built on Jesus!
Keep that foundation strong by being in his word and cultivating a strong prayer life. Worship, fellowship with believers, and ask him to stretch you in your spiritual growth.
Be a "rock-solid", committed and action-oriented follower of Christ!
"As you come to him, the living Stone-rejected by humans but chosen by God and precious to him- you also, like living stones, are being built into a spiritual house." 1 Peter 2:4-5
Blessings!
AnnMarie
All Scripture is taken from the NIV unless specified otherwise.
Photo Credit: AnnMarie Anderson