The Bible gives us a fascinating account of the birth and the growth of the early Christian church. The first true believers of Jesus lived in a small part of the world, but God had big plans for them and the expansion of His message.
What Did the Disciples Do After Jesus Died?
John notes in chapter 21:14 that Jesus appeared to the disciples three times in the 40 days after the resurrection. They prayed and ate together and He continued to teach them. He met with them in Jerusalem as they were in hiding and in Galilee as they were fishing.
Jesus continued to speak of His kingdom, which was still a confusing concept for the disciples. Curious about their future, they ask when He is going to restore the kingdom to Israel. They still did not understand that His kingdom was not about overthrowing Roman rule.
Jesus tells them only God knows that timetable. He then gives them instructions to wait in Jerusalem "for the gift my Father has promised" (Acts 1:4)- the Holy Spirit.
Judea, Samaria, and the Ends of the Earth
Jesus' final instructions before He ascended to heaven:
"But you will receive power when the Holy Spirit comes on you; and you will be my witnesses in Jerusalem, and in all Judea and Samaria, and to the ends of the earth." Acts 1:8.
Take just a few seconds to imagine your thoughts and reactions if Jesus had given YOU these instructions in person….
We see His meaning in the physical sharing of the Gospel right where they were- Jerusalem. He extended it into the wider area of Judea (the entire southern part of Israel), Samaria (the mountainous central region of Israel), and finally, to all the people in the world.
We can also find meaning in the symbolism of these places.
The Gospel was to be first for the Jews (Romans 1:16), even though most rejected Him. Jesus wants them to start in Jerusalem.
Judea was a place where Jesus met intense conflict and hostility with the religious leaders. They overwhelmingly rejected His message, but He sends His disciples here anyway.
He also sends them to Samaria; a place where tension and hatred reigned.
And finally, to the ends of the earth. They would be complete strangers in strange lands. Jesus wanted the Good News to be offered to all, regardless of the disciple's fears, prejudices, and hardships they would encounter.
The Birth of the Church
Some consider the onset of Jesus' ministry the beginning of the church. Some identify the first person to spread the Good News of the Messiah to her townspeople- the woman at the well.
The day of Pentecost, however, is commonly spoken of as "the birth of the church" because it was when the promised Holy Spirit came upon His disciples.
The Feast of Pentecost
The word Pentecost comes from the Greek word for "fifty." Pentecost was also called the Feast of the Harvest and Feast of Weeks. It was set by God in Leviticus 23:15-22.
The Feast of Weeks
It is celebrated 50 days after Passover (late May to early June)- one of three major feasts in the Jewish calendar year. It was a grand celebration of thanksgiving for their harvested wheat crop. Jews "from every nation" (Acts 2:5) came to Jerusalem to celebrate.
This first Pentecost after Jesus' resurrection would be memorable!
Take just a few seconds to imagine sitting among the disciples…
The promised Holy Spirit, sounding like a violent wind, came down from heaven and suddenly filled the house where the disciples were meeting. Tongues of fire separated and came to rest on each one. They were "filled with the Holy Spirit" (Acts 2:4) and spoke about the wonders of God in many languages.
Each person heard them speaking in their own language (remember- Jews were there from every nation!) Crowds formed. They couldn't comprehend how this could happen. What could this possibly mean? Some thought they were drunk.
Peter, who only weeks before had denied Jesus, rose in great courage, and addresses the crowd. His "sermon" led them through fulfilled prophecy about Jesus, His place as Messiah, and how Jesus could change their lives.
His powerful and Spirit-filled message brought about 3000 people to Christ in that one day.
The church of Jesus Christ was born!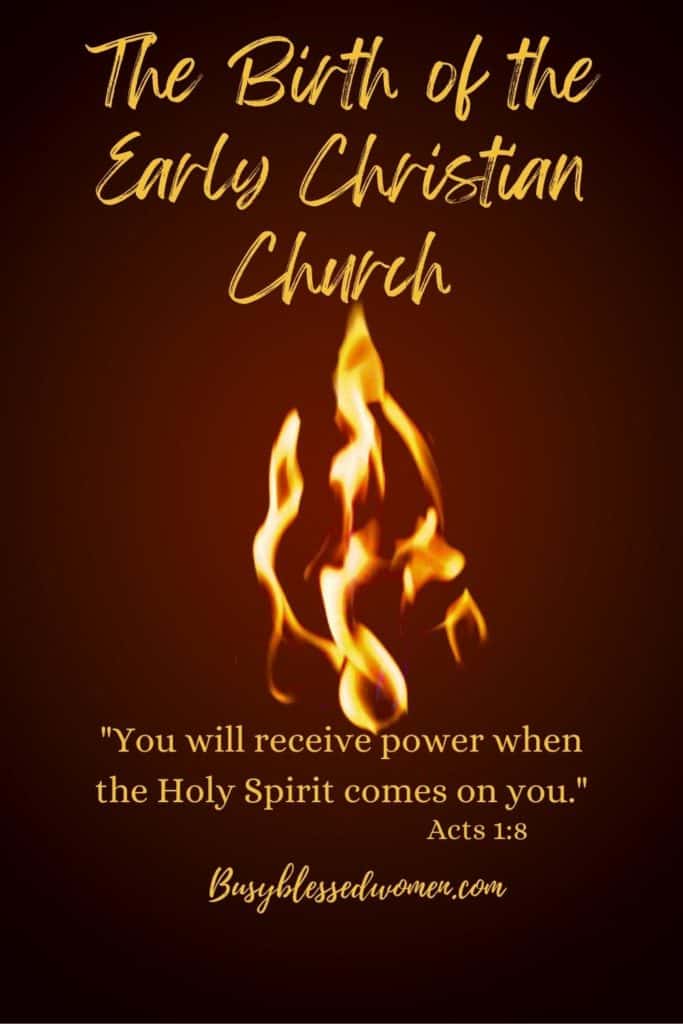 Pin me for later!
What Was the Early Church like in Acts?
Acts 2:42-47 shows us what their day-to-day life was like. Having put their faith in Jesus, they:
Devoted themselves to learning about Jesus from the teaching of the disciples
Enjoyed fellowship with other new believers; shared their lives (joys, sorrows, encouragement, etc) as a community
Prayed and worshiped together
Celebrated communion as commanded by Jesus at the Last Supper
Were in awe of God as they watched the disciples perform miracles
Sold their possessions and gave to whoever was in need
Met daily in the temple courts (probably the only place big enough to hold all these new converts)- studied the Scriptures and worshiped God.
This early church was a united Christian family of believers that lived and grew in the faith together. They ate together "with glad and sincere hearts." Their outpouring of love did not go unnoticed by those around them. This body of Christ was so attractive, "the Lord added to their number daily those who were being saved."
Where Did the Early Church Meet?
There were no church buildings. Instead, those early Christians met in many places.
Besides the temple, they also met in homes (Romans 16:5, 1 Corinthians 19:19) and schools (Acts 19:9)
They met wherever they could and were open to adapting to their new life. Their needs were few, but their joy and contentment were great.
Life of Early Christians
The early church had no class distinction- rich or poor, knowledgeable or uneducated, free or slave, and Jew or Gentile were gladly accepted and were all on level ground. It was their love for each other and belief in Jesus that bonded them together.
The church in Jerusalem grew daily thanks to the powerful preaching of Peter and John, and the attraction of their loving and united community.
Persecution in the Early Church
Unfortunately, their popularity also attracted harsh critics which led to persecution. They experienced harassment, prison, beatings, and some were put to death. The Jewish leaders stoned Stephen (one of the first deacons of the church) and Herod had the disciple James killed.
This persecution did not dissuade the believers, and actually helped spread the Gospel. As they fled from persecution, they took their spirit of love and unity and the bold proclamation of their message with them.
In Chapter 8 of Acts, we find the gospel being preached in Judea and Samaria, and by the end of Acts, it had spread to countries beyond that. The disciples eventually went to Syria, Turkey, Greece, Africa, and Rome (among others). They boldly and confidently preached wherever they went- in towns, homes, markets, ships, and on dusty roads.
Divisions in the Church
The early church (like churches today) also struggled with division and arguments as they grew. They gathered Gentile and pagan believers who brought their own ideas with them. New Jewish converts wanted to bring Mosaic law with them. Some topics that arose were those who insisted on the act of circumcision, differing beliefs on baptism, what foods to eat, who can preach, church hierarchy, church discipline, what proper worship should look like…
Any of those sound familiar?
Paul writes a lot of letters urging unity through the Holy Spirit and Jesus in these new churches. He writes this to the church in Ephesus:
"Make every effort to keep the unity of the Spirit through the bond of peace. There is one body and one Spirit… one Lord, one faith, one baptism; one God and Father of all, who is over all and through all and in all." Ephesians 4:3-5.
Definition of Church in the Bible
The Greek words for "church" meant "the called-out ones" and "dedicated to the Lord." It can also mean "come together"; as in a gathering. It can be a local group of believers, or as believers as a whole throughout history.
The Church as the Body of Christ
Paul goes into great detail in 1 Corinthians 12 comparing our physical bodies to the "body of Christ"- the church.
"Now you are the body of Christ, and each one of you is a part of it." 1 Corinthians 12:27.
He makes this comparison to show us how many people with different backgrounds and personalities make up the church. We each have our own special part to play, using our gifts and abilities. The one unifying common denominator is our faith in Christ (the head of the church) and the empowerment of the Holy Spirit. As the church, we are the physical representation of Jesus as He was on earth.
The Church Today
When Jesus met with the woman at the well, they discussed where true worship should occur. The Jews and the Samaritans each had their own temple and thought they were "right." But Jesus came along and changed everything. It wasn't important where we worship, but how.
"Yet a time is coming and has now come when the true worshipers will worship the Father in spirit and truth; for they are the kind of worshipers the Father seeks." John 4:23.
Those early church members lived out this command. Their location of worship was of little consequence, while their attitude towards worship was everything.
We find our churches today to have many differences and similarities from those early churches. Maybe you have heard this statement: we do not go to church; we are the church.
But the corporate acts of communion, worship, and fellowship are important in our faith walk. Simply walking into a church changes nothing. Worship, learning, prayer, and fellowship as a church body equips us to go change the world.
Our churches still have disagreements and turmoil, but Paul's urging towards unity remains.
What Can we Learn from the Early Church
•When Jesus told His disciples they were to be His witnesses to the world, He was also speaking to you and me. Our personal witness is unique to each one of us, but is not to be stifled because of fear.
•Early Christian church members instantly attracted others to them through their bold love and worship. How different are we than the world around us?
•They concentrated their daily habits on studying and worship. They still had jobs and duties and managed to fit it in. 😊
•They were very generous givers. They even sold their land and possessions to provide for the church members. While communal living is rare, we can still evaluate the generosity of our own hearts.
•The Holy Spirit has not changed in the last ~2000 years since He arrived at Pentecost after Jesus' ascension into heaven! Last week we studied the Resurrection Power. The same power from the Holy Spirit that lived in those early believers is in us now.
Do you need to fan the flame of the Spirit within you?
•How can you put your love for Jesus into actions that mimic those of the early church?
What a beautiful time of the year to reflect on "being the church!"
Blessings,
AnnMarie
Photo Credit: Deposit Photos
All Scripture is from the NIV unless specified otherwise.