The Beatitudes are the teachings of Jesus that He gave early on in His ministry. They were an "introduction" to the Sermon on the Mount. Each Beatitude is a simple statement describing how to be blessed while serving in God's Kingdom. Someone recently asked me to give more information on this passage from the gospel of Matthew, so here is my condensed version of "the Beatitudes explained."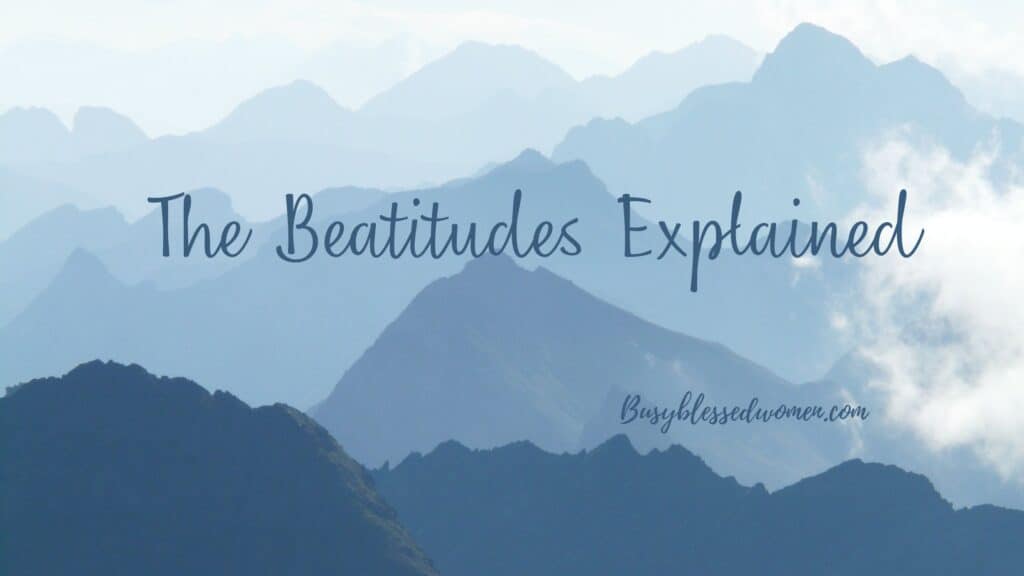 What Do the Beatitudes Mean?
Bakers Bible dictionary¹ defines the word beatitude as a "condition or statement of blessedness" from the Latin word "beatitudo." The concept doesn't translate well into English but is probably best described as "utmost spiritual joy."
Jesus gave us these series of blessings to describe a God-given serenity, completely independent of the circumstances of our daily lives. It is part of our spiritual formation which focuses on a deepening relationship with Him.
He wants us to know the true joy that comes from following Him, and the security of our salvation that brings us into the kingdom of God.
What Are Beatitudes?
Jesus presents a virtue or expectation for His believers and matches them with a reward that follows.
They were in stark contrast to the set of teachings the Pharisees taught. Position, power, money, and authority are not important in Jesus' kingdom.
They also introduce one of the major themes of Matthew's Gospel. The long-awaited Kingdom was not going to be in this world, but in the next, the Kingdom of Heaven.
The Beatitudes of Jesus
The Beatitudes of Jesus were included as part of the Sermon on the Mount, which takes place early in Jesus' ministry. John the Baptist has baptized Him, and He has preached throughout Galilee, healing many people.
News was spreading fast, and enormous crowds were following Jesus. The number of followers in Jesus' audience were increasing quickly as well.
The mountainside where Jesus' teaching took place was in the city of Capernaum, on the north shore of the Sea of Galilee.
He speaks to His disciples (some believe it may have been more than just the 12…) and warns them of the temptations they would face and sets the qualities that should characterize His followers.
Why are the Beatitudes Important?
•Even though these words of Jesus were first spoken to His disciples, they are a "code of conduct" for all followers of Christ. They were the right way to live then, and still apply today.
•The disciples may have been proud of their teacher and their association with Him, but Jesus wanted to warn them that being His followers would not bring them the fame and fortune they may have been expecting.
•Jesus assured them of an eternal reward in Heaven and that they can live blissfully with that promise while here on earth.
•These Beatitudes- "spiritual attributes"- are for all Christians. Unlike spiritual gifts, we can't pick among which Beatitude we want to express or live out. We will never master them all, but it should be our aim.
•These eight Beatitudes describe the fundamental heart change of Jesus' followers. When we live them out, we are shaping the character of God's kingdom here on earth!♥
How Many Beatitudes are There?
When I first started looking at the Beatitudes, I found differing numbers of them. Some identify anywhere from 8 to 12. Matthew's Gospel records eight Beatitudes with verses 11 and 12 speaking about the same Beatitude found in verse 10.
Four blessings appear in Luke's Gospel as well, followed by four woes which mirror the blessings.
Beatitudes in Matthew 5
In this post, we will look at the book of Matthew verses. The Luke verses are in Luke 6:20-26 if you would like to compare, (with the companion "woe" verses).
Matthew 5:1-12
"Now when He saw the crowds, He went up on a mountainside and sat down. His disciples came to Him, and he began to teach them, saying:
Blessed are the poor in spirit, for theirs is the kingdom of heaven.
Blessed are those who mourn, for they will be comforted.
Blessed are the meek, for they will inherit the earth.
Blessed are those who hunger and thirst for righteousness, for they will be filled.
Blessed are the merciful, for they will be shown mercy.
Blessed are the pure in heart, for they will see God.
Blessed are the peacemakers, for they will be called sons of God.
Blessed are those who are persecuted because of righteousness, for theirs is the kingdom of heaven.
Blessed are you when people insult you, persecute you, and falsely say all kinds of evil against you because of me. Rejoice and be glad, because great is your reward in heaven, for in the same way they persecuted the prophets who were before you."
The Beatitudes
Notice that each one uses the word "blessed are"- the present tense. Jesus was not speaking of a blessing to come, but a blessing we enjoy now. Let's look at each one to understand the meaning of the Beatitudes-
The Poor in Spirit
…for theirs is the kingdom of heaven.
I always thought "poor in spirit" meant depressed or sad. But what Jesus described was not general sadness or feeling insignificant, but realizing our own spiritual poverty before God.
Only the truly humble and repentant realize they need God's grace and the salvation He offers.
Isn't it wonderful that this is the first Beatitude? It's also our first step in coming to Him!
Only when we realize the depth of our own sins, with no way out except for Jesus' sacrifice, can we experience His blessing and enter His kingdom.
Blessed are Those Who Mourn
…for they will be comforted.
The Greek word for mourn used here is a deep grieving. Jesus is speaking here about the grief we feel over the consequences of sin- our own, which separated us from God, as well as what we observe in the world.
Paul describes the process in 2 Corinthians 7:10a: "Godly sorrow brings repentance that leads to salvation."
Yet we are promised comfort:
"Praise be to the God and Father of our Lord Jesus Christ, the Father of compassion and the God of all comfort, who comforts us in all our troubles…" 2 Corinthians 1:3-4a.
The blessing is knowing whatever pain we experience in this world from sin is temporary, and He walks with us to comfort us.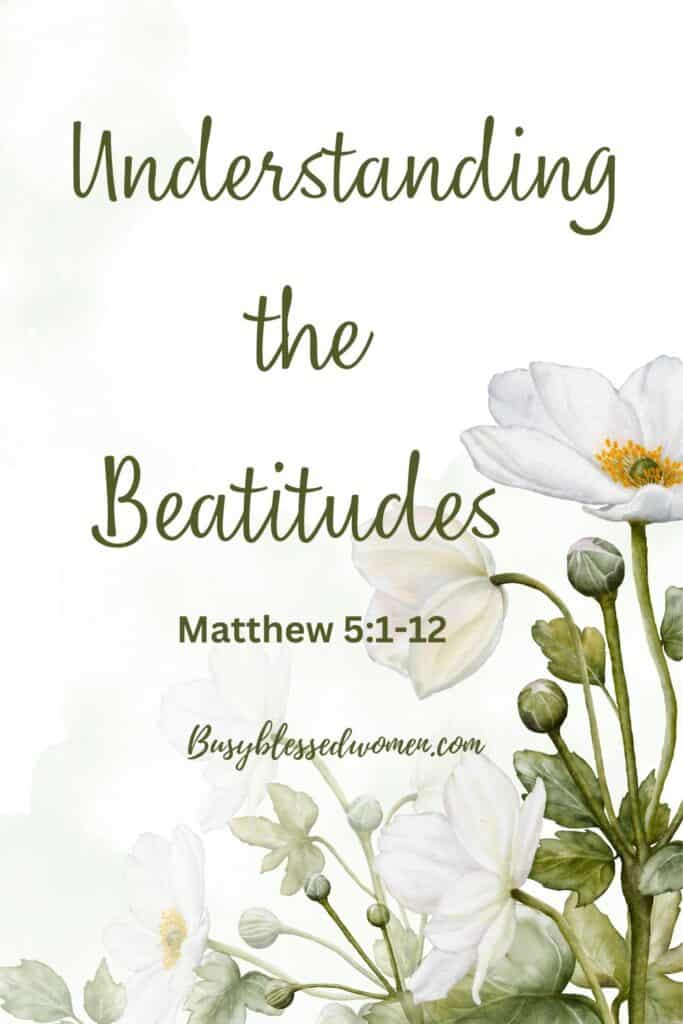 Pin me for later!
Blessed are the Meek 
…for they will inherit the earth.
In this third Beatitude, I imagined this as a defect- an attitude of a "doormat", or someone easily subdued.
But meekness is not weakness!
To be meek means gentle and humble. Jesus calls Himself "meek" (Matthew 11:29) In Scripture, this word is far from a defect. It is what we aspire to- a gentle and humble servant's heart and obedience to God.
Our blessing of "inheriting the earth" comes now- we have all we need as we live in God's love and care. It also has a future meaning of our inheritance kept in Heaven.
Blessed are Those Who Hunger and Thirst 
…for they will be filled.
Are you sensing a spiritual progression as we go along? In this fourth Beatitude, we move from recognizing we are spiritually poor to mourning over our sin.
We then show submission and obedience, and experience the feeling of hunger to be more Christ-like in all we say and do.
Our soul has an appetite only He can fill, and He blesses us- to the brim!
Blessed are the Merciful
…for they will be shown mercy.
While the previous Beatitudes concentrated on the spiritual attributes of His followers, we now move to how we live regarding others.
Mercy has two components- forgiving those who sin against us, and the compassion we feel for others who are weak, poor, ill, anxious, and the outcasts of society.
Jesus took our shame and sin to the cross because of mercy. Because His mercies refresh us every morning, we show it to others.
Blessed are the Pure in Heart 
…for they will see God.
A pure heart has one motive and purpose- to love God and to serve others in His name. Jesus' sacrifice cleansed our hearts and forgave our sins. We live now with the work of keeping our hearts morally pure by devoted to Jesus.
Those who are pure in heart don't "see" Jesus with physical sight. But He rewards us by blessing us with a deeper knowledge and understanding of Himself. We "see" Him in His Word, in the natural world around us, and in others.
Blessed are the Peacemakers 
…for they will be called sons of God.
Jesus is our ultimate peacemaker, making peace between God and us. Our job as peacemakers include proclaiming this truth to others.
This reconciliation process also extends to peace between each other- in our homes, at work, with relatives and friends. Paul gives us directions on how to live in peace in Romans 12:18-20.
Just as Jesus made peace on the cross, we take up our cross and follow Him into the work of peacemaking. That work makes us "Sons of God"- in partnership with Him.
Blessed are Those Who are Persecuted 
…for theirs is the kingdom of heaven.
In His eighth and final Beatitude, Jesus warns us that the world would hate us because they hated Him first.
"If the world hates you, keep in mind that it hated me first. If you belonged to the world, it would love you as its own. As it is, you do not belong to the world, but I have chosen you out of the world. That is why the world hates you." John 15:18-19.
Persecution could range anywhere from a stare at a restaurant as you pray before your meal, to outright rejection, to physical suffering.
Besides the future reward of heaven, we can rejoice in our fellowship with Jesus here on earth. We live to please only Him, and the opinions of others can't take His joy away from us.
Jesus tells us that because of our association with Him, insults, persecution, and opposition will come our way. Persecution proves we have been faithful.
It strengthens our faith and sets a good example to others. It's a good sign- it means our faith is worth being attacked!
What do the Beatitudes Teach Us?
•The Beatitudes are attributes and characteristics for every Christian to live by today. But we are not left alone to accomplish this task. We have the indwelling Holy Spirit to help us live them out daily.
•The Beatitudes are in total opposition to our world. The more we are like Christ, the more we stand out.
•Satan tries his best to make sure we don't put the Beatitudes into practice. We overcome temptations by letting the Holy Spirit strengthen and equip us. We have His power inside us to overcome and rise to the challenge to live them out.
•We live in this world with joy and peace because we know what lies ahead in eternity. He also promises His peace for us now. My heart is at peace, neither troubled nor afraid, when I claim His blessings.
•While reading these Beatitudes, I hear the overwhelming statement "this world is not my home" ringing in my ears.
Someday He will wipe away every tear from our eyes, and we will feast at His banquet table. We will wear white robes of righteousness and share in His glory.
"Rejoice and be glad, because great is your reward in heaven." Matthew 5:12.
Which Beatitude do you feel convicted to work on?
What new truth about the Beatitudes did you learn?
What does "blessed" mean to you?
Blessings!
AnnMarie
1-(https://www.biblestudytools.com/dictionary/beatitudes/)
Photo Credit: Canva