Did your parents ever have some go-to sayings to keep you in line while you were growing up? Years ago my Mom gave me a framed statement that said: "I'm The Mommy- That's Why". I'm not saying it was the best response, but after hearing "But Mom, Why?" many, many times, I'd resort to using it. Sometimes they just gave me "the look"- but they knew what I meant. Taming the tongue. Why is it so difficult?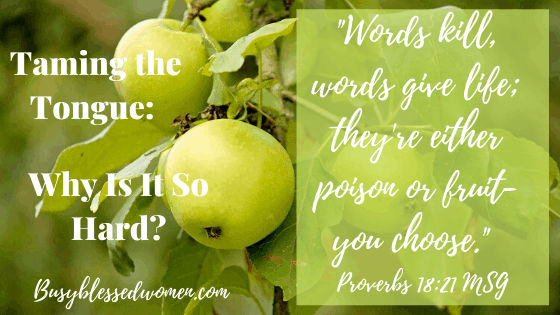 No Man Can Tame the Tongue
Is there any part of your language you'd like to clean up? I have some. Not one of us is perfect, and James 3:8 tells us "no one can tame the tongue. It is restless and evil, full of deadly poison."
Now don't be discouraged; he just means that no one by him or herself can tame their tongue. We need God's help.
Bible Verses about the Tongue
Does it surprise you that two of the Ten Commandments have to do with taming our tongue? Can you name them? I'll wait…..
On second thought, check them out in Exodus 20… (Sneaky of me, huh?)
Let's look at some ways the tongue is described in a good way:
"The words of the godly are like sterling silver; the heart of a fool is worthless." Proverbs 10:20
"Some people make cutting remarks, but the words of the wise bring healing." Proverbs 12:18
"Gentle words are a tree of life; a deceitful tongue crushes the spirit." Proverbs 15:4
There are quite a few descriptions of the not-so-nice nature:
"…Your tongue cuts like a sharp razor; you're an expert at telling lies." Psalm 52:2
"…The tongue is a flame of fire. It is a whole world of wickedness, corrupting your entire body." James 3:6
"For their tongues shoot lies like poisoned arrows." Jeremiah 9:8
"They sharpen their tongues like swords and aim their bitter words like arrows." Psalms 64:3
You get the picture.
Gossip, cursing, swearing, lies, slander, grumbling, sarcastic put-downs, yelling, name-calling, threats, and tones and inflections that are hurtful are just a few examples of the sins of the tongue.
Learning to Tame your Tongue
Jesus gives us the answer to taming the beast in Matthew 12: 34.
He is speaking to the Pharisees, but His words are true for us all: "For out of the overflow of the heart the mouth speaks." Surprisingly, it's more of a heart problem than a tongue problem.
I love Matthew Henry's commentary on this verse- "The heart is the fountain, words are the streams."
We can't clean up the stream without first starting with the fountain. The words we say tell us the condition of our hearts. Once the heart fountain is cleansed, the water pouring out of it will be fresh and clean.
We need a change of heart.
Isn't that our struggle with all sin in our lives? Our hearts lean to the sinful since the Garden of Eden.
So it is with our speech. The prophet Jeremiah tells us in 17:9 that "the human heart is the most deceitful of all things." I originally wrote out Psalm 139:23-24 as a prayer antidote to anxiety, but it has a whole new meaning for me now:
"Search me, O God, and know my heart; test me and know my anxious thoughts. Point out anything in me that offends you, and lead me along the path of everlasting life."
Yes Lord, know my heart and lead me! His Word does not disappoint. Ephesians 4:29 gives us something to strive for: "Let everything you say be good and helpful so that your words will be an encouragement to those who hear them."
Ways to Tame the Tongue
As we work towards living out that scripture, here are some ideas to help:
Honestly assess your habits regarding your tongue and speech.
Ask the Holy Spirit to fill your heart with a new way of thinking. Let the Holy Spirit convict you of speaking only that which pleases God.
Pray the words of David in Psalm 141:3 "Take control of what I say, O Lord, and guard my lips."
Memorize James 1:19: "Everyone should be quick to listen, slow to speak, and slow to anger."
Monitor your speech for a few days. Take notes of where you slip up and why. It can be helpful to recognize triggers, and how to avoid the traps that cause your sinful speech habits.
I have heard the suggestion of writing out your frustrations, anger, or complaints and then deleting them (or throwing them away). It could give you some personal insight into your situation, produce forgiveness, change bad habits, and keep you from saying things you should not.
The great prophet Isaiah had a problem with his tongue. He once had a vivid vision of God on his throne, attended by angels. "Woe to me!" I cried. "I am ruined!" For I am a man of unclean lips, and I live among a people of unclean lips, and my eyes have seen the King, the Lord Almighty." Isaiah 6:4-5.
God cleansed him by having an angel touch his lips with a live, hot, coal taken from the altar of atonement. The Lord, asking for someone to proclaim his truth, asks, "Who shall I send, and who will go for us?" Isaiah steps up and says, "Here am I! Send me!" v8.
It was God's work that cleansed Isaiah's lips and he will do the same for you and me.
Isaiah went to work for God, giving himself over to his service. Cleaning up our speech and taming our tongue is possible with God's help.
Blessings,
AnnMarie
"May these words of my mouth and this meditation of my heart be pleasing in your sight, Lord, my Rock, and my Redeemer." Psalm 19:14
Related Post:: Why Is Kindness Important?
Related Post:: Gratitude in Action
Picture Credit: Pixabay