Baggage comes in two forms: the physical stuff you pack into luggage or backpacks, and the emotional stuff you pack away inside of you. My husband and I just returned from vacation and packing extra hiking gear and having an extra piece of baggage got me thinking about the extra emotional baggage we (including myself) carry around every day. We lug around past mistakes, abuses, anger, stress, worry, fear; you name it. It is unnecessary weight and can come with consequences. God doesn't want us to carry these burdens. How can we let go of emotional baggage?
Emotional Baggage Definition
Here's a definition from the Collins Dictionary that sums up our emotional baggage: "the feelings you have about your past and the things that have happened to you, which often have a negative effect on your behavior and attitudes." We pack them as soon as our hurts and conflicts remain unresolved.
The first step? Open that bag and see what unresolved stuff we've packed away.
Has part of your world has fallen apart?
Do unpleasant memories keep popping up?
Has someone hurt you with words or actions?
Do you feel ashamed or misunderstood?
Are there unresolved conflicts or reoccurring fears/worries that cause anxiety?
Is it hard for you to forgive yourself for past mistakes?

Unresolved Emotions
Emotional baggage weighs us down and can be barriers to the life God wants us to live.  He wants us to experience joy and hope, not conflict and pain.   
Worry and fear can trap us in a vicious circle and steal our joy. 
Living in anger is a festering poison.
Unresolved emotional baggage can have a detrimental effect on our physical health as well.  Anxiety, insomnia, depression, headaches, chronic pain, and high blood pressure are just a few ways they can manifest themselves.
Releasing Emotional Baggage
God wants to take that emotional baggage from you. He has seen you in the hard places and he has heard every unkind word spoken to you. God knows your secrets and what you've been through. He knows it all and loves you wholly and unconditionally. God is the only person who will never leave us or turn his back on us.
"God has said, 'I will never fail you. I will never abandon you.'" Hebrews 13:5 NLT.
Bring your emotions to God instead of packing them into your emotional baggage.
He gave us our emotions and would love to see us use them in the correct way. He wants to work in us and direct us. It is God's desire to comfort and reassure us. He wants us to work through tough emotions, not pack them away for later.
"Come to me all you who are weary and burdened, and I will give you rest." Mt 11:28 NIV.
Giving Your Burdens to God
Speak to him about it. Ask for his insight. Pray for guidance.
Unpack the burden and see yourself placing it in his outstretched hands.
Remind yourself that he is in control. He promises to "sustain you" when you give him your burden.  "Sustain" means he wants to comfort, help, assist, encourage, support, and strengthen you!
"Cast your cares on the Lord and he will sustain you." Psalm 55:22 NIV
Refuse to pack stress and worry.
They don't help you achieve your goals and they don't change the outcome or prevent bad situations. Don't give them a place to live in your heart or mind. God wants to live there. Don't squeeze him out.
"I tell you, do not worry about your life…. Can any one of you by worrying add a single hour to your life? " Mt 6: 25-27
Don't Live in the Past
Confess past mistakes, receive forgiveness and move forward.
He doesn't want us living in the past. He wants his peace to cover us completely and heal our hurts and regrets.
"If we confess our sins to him, he is faithful and just to forgive us our sins." 1 John 1:9
"Forget the former things; do not dwell on the past." Isaiah 43:18 NIV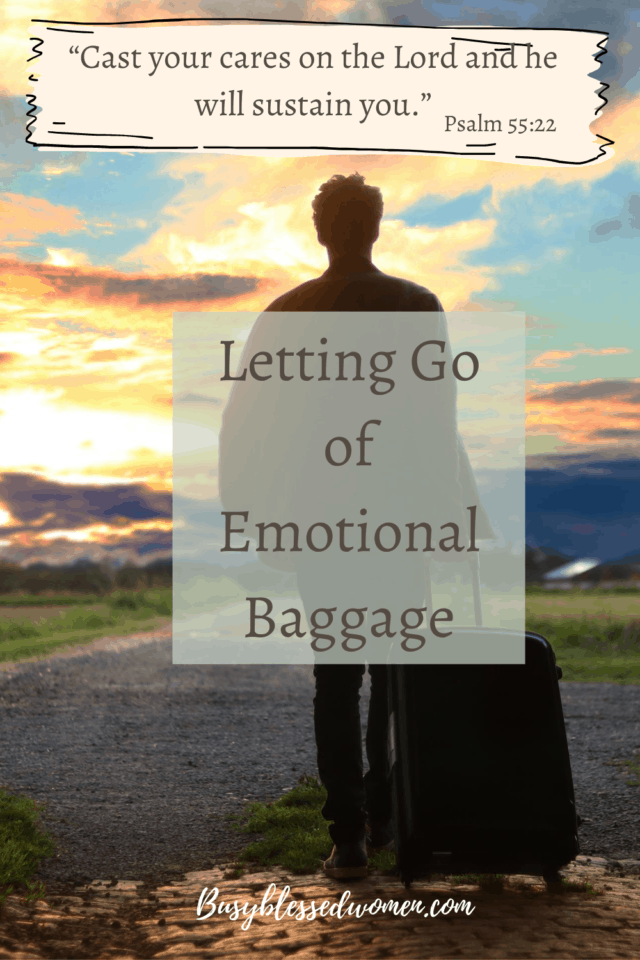 Pin me for later!
Managing Your Emotions
Jesus gives us a great example of how to manage our emotions.
His human nature struggled on his last night with the events he knew were ahead. He spent that time with his closest friends on earth. Sorrow and agony overwhelmed Jesus in the garden of Gethsemane.
•He took Peter, James, and John and went to pray privately to His Father.
Do you isolate yourself in times of trouble?
•Jesus shows us that after going to our Father, we should turn to our trusted friends.
Christians aren't meant to live in isolation. Ask for prayer, encouragement, and reassurance. Share what's going on, ask for help.
"Carry each other's burdens." Galatians 6:2
"Comfort those in any trouble with the comfort we ourselves have received from God." 2Cor 1:4
•And like Jesus, pray, and keep praying.
Three times that night Jesus prayed the same prayer to his Father. He poured himself out to him. It wasn't easy, but he did not stop. He recognized that he needed to rely on his Father. Imagine how different managing our emotions would be if we did likewise. God hears our prayers!
Jesus tells us "in this world you will have trouble." Expect it but remember the beautiful promise that comes next! "Take heart! I have overcome the world." (John 16:33) He wants us to face our problems with courage and strength.
Claim his peace for your life and let go of your emotional baggage!
Blessings!
AnnMarie
Photo credit: Pixabay