Human emotions and feelings are part of our unique character make-up. While the scientific explanations of both made my eyes cross, for the sake of this blog, we will define an emotion as a God-given feeling such as happiness, sorrow, love, fear, anger, joy, grief, etc. I don't know about you, but sometimes my emotions get the best of me. Is there a healthy way to control them? How can I stop being led by emotions? Amazingly, there are many Bible verses about emotions- ours and God's!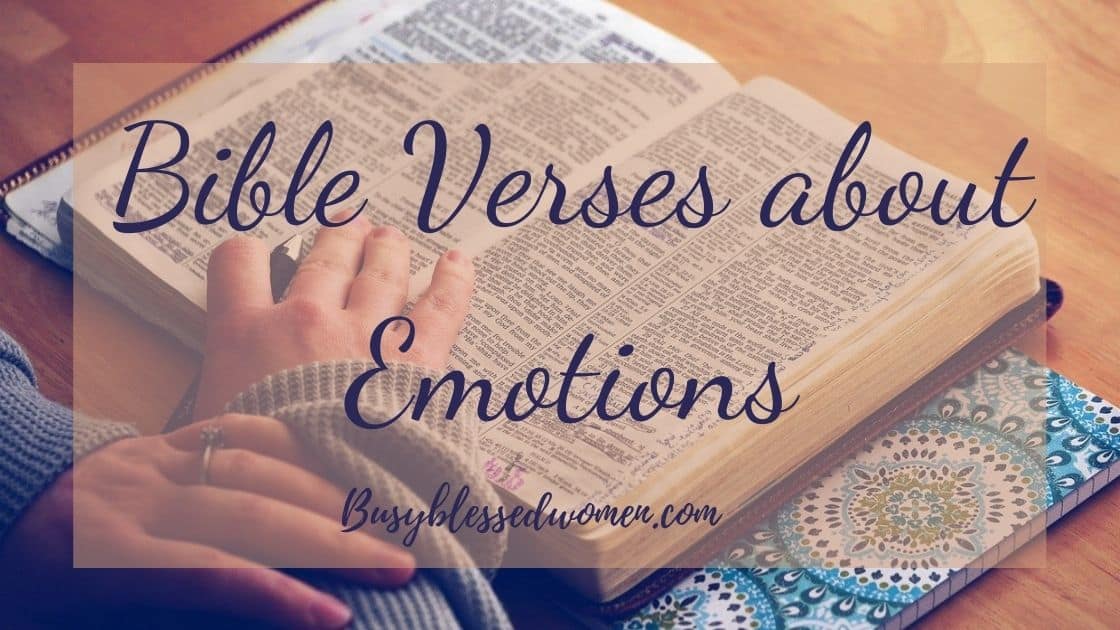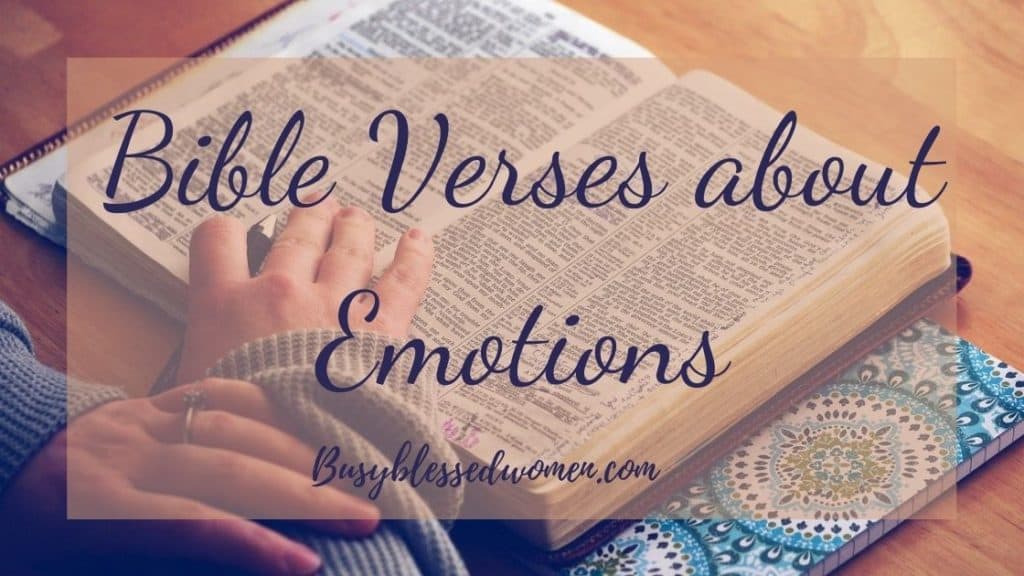 Biblical Definition of Emotions
God made us in His image, so our emotions are His creation and gift passed down to us. (How we react to them is an entirely different matter.)
Our emotions and feelings can be positive or negative, depending on the situation or the relationship. They are not our thoughts, but more a state of mind. Emotions are responses from our hearts that are a natural part of being in relationship with God and others. They give us the ability to connect- either good or bad.
Does God Have Emotions?
I had to think about this one for a moment. But then I thought, of course He does! I was comparing Him to the way I process and act on my emotions, and God does not experience mood swings! His emotions come from His holy nature and He always expresses them perfectly and without sin.
Here's a sampling of Scripture that reveals God's emotions:
Love: "I have loved you with an everlasting love." Jeremiah 31:3 NIV.
Joy: "The Lord your God is with you… He will rejoice over you with singing." Zephaniah 3:17 NIV.
Compassion: "The Lord is gracious and compassionate, slow to anger and rich in love." Psalm 145:8 NIV.
Grief: "The Lord regretted that he had made human beings on the earth, and his heart was deeply troubled." Genesis 6:6 NIV (God feels grief and sadness when faced with our sin and rebellion against Him)
Anger: "When God heard them, he was very angry; he rejected Israel completely." Psalm 78:59 NIV (for worshipping other gods after being led into the Promised Land.)
Emotions of Jesus
Jesus shows us His emotions too when He wept at the grave of Lazarus (John 11:35). He showed compassion for His people (Mark 6:34) and deep sorrow right before His death. (Matthew 26:38) Many times His ministry left Him exhausted and in need of quiet communion with His Father (Mark 6:31) And who could forget His righteous anger towards the thieving moneychangers (Matthew 21:12) or the Pharisees and teachers? (Matthew 23:33) He felt disgust against the oppression of the poor and frustration when His disciples were slow to learn His teachings. In all His emotions, however, He never sinned.
Pin me for later!
What does the Bible Say about Emotions?
Emotions are a good thing! Without them, we would never experience those feelings that connect us as human beings. We wouldn't have compassion for those less fortunate or feel righteous anger against the wrongs of the world. Feelings of regret and sorrow can lead us to mend fences we have broken.
We also know that sorrow and pain will come into our lives at some point. We worry and get fearful and depressed.
Proverbs 14:13 tells us that "even in laughter, the heart may ache, and rejoicing may end in grief."
It seems emotions and feelings can be fickle things. We can't trust them to let us know what's really going on, and they can get out of control.
We all express them in different ways- some let off steam by expressing all their emotions outwardly. Some avoid emotions by sweeping them under the rug. It's not healthy to let our emotions and feelings run our lives or cloud our judgement. There is a better way!
Bible Verses about Controlling Emotions
Emotions are responses from our hearts. But our hearts can deceive us and lead us astray. Even our Spirit-filled tender hearts lean towards sin. We let our emotions and feelings tell us who we are and what we desire, not what we need.
"The heart is deceitful above all things and beyond cure, who can understand it?" Jeremiah 17:9 NIV.
Verse 10 answers the question: "I the Lord search the heart and examine the mind."
We need to trust what God says about us and what is best for us.
Are you feeling afraid? Insecure? Unworthy? Weak? Unloved? Worthless? Helpless? Lonely?
Those are feelings, and you are not how you feel. You are who God says you are!
Embrace your identity in Christ instead- You are a chosen and unique masterpiece. You are never alone, and He accepts you- sins, warts, and all. Jesus has redeemed you and called you by your name. He says you treasured, precious in His sight and His protected one.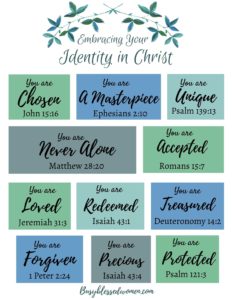 Click on image for printable version!
Faith over Feelings
"We live by faith, not by sight." 2 Corinthians 5:7 NIV.
Even though we have never seen God with our own eyes, we love Him and do our best to live for Him. We are living by faith, not by sight. It would be great to have the pillars of cloud and fire as the Israelites did, but we have something even better- His Word! It is there we find His promises to bring blessings and relief. Our trust is in Him- not our feelings, and not the world.
Emotions and feelings can control us, but that's not what God intended. He wants us, in faith, to let Him be our guide. Here is one verse that sums up where our hearts and mind should be to keep our emotions and feelings in their proper place:
"Since you are my rock and my fortress, for the sake of your name, lead and guide me." Psalms 31:3 NIV.
Believe that Jesus is your rock and strong tower and has the ability and desire to strengthen and guide you through all your emotions. Yes, even the really tough ones! Have faith and trust in Him, not your emotions.

How can we put this into practice, though, when our emotions seem to run a nonstop loop in our thoughts?
How to Live by Faith Over Feelings
The first verse that pops into my mind is this:
•"We take captive every thought to make it obedient to Christ." 2 Corinthians 10:5b NIV.
Taking our thoughts captive means "putting them in jail," so to speak.
Take a time out, take a breath and "renew your mind." (Romans 12:2)-
•"Fix your thoughts on what is true, and honorable, and right, and pure, and lovely, and admirable. Think about things that are excellent and worthy of praise." Philippians 4:8 NLT.
The Holy Spirit has a huge part to play in this process. He convicts us of feelings that go against God's desires for us. But we need to pause and listen to Him, not continue to ruminate on the emotion or feeling. Don't ignore them, but don't feed into them either.
Take an honest look at why you are feeling the way you do. Then explain it all to Him, don't hold back! (He already knows anyway♥)
Trust In Him
•"Trust in him at all times, you people; pour out your hearts to him, for God is our refuge." Psalm 62:8 NIV.
Speak to God about your emotion/feeling. Pour it out to Him. Ask Him for His help in conquering this emotion and ask for His peace to rule in your heart. (Colossians 3:15). Release your emotion into His hands.
Wait on God
• "Those who wait on the Lord shall renew their strength; they shall mount up with wings like eagles, they shall run and not be weary, they shall walk and not faint." Isaiah 40:31 NKJV.
And then we wait. Not in desperation or fear, but knowing that He is never too tired or busy to help us. Rest in His strength. He becomes greater than your emotions and feelings.
Hide the Word in Your Heart
•Be like David: "I have hidden your word in my heart that I might not sin against you." Psalm 119:11 NIV.
We "hide his word in our hearts" by reading, meditating on, and memorizing Scripture. We have to guard our hearts- they can be flooded with outside influences. What are you hiding/treasuring in yours? If you want the ability to keep wayward emotions and feelings from taking over and stealing your joy, then hide His Word in your heart.
Pick one or two verses from this post that speak to you and hide them in your heart♥
Feelings vs Truth
• "Trust in the Lord with all your heart and lean not on your own understanding." Proverbs 3:5 NIV.
When the Bible says to not lean on your own understanding, it's not a just a suggestion. Trust in the God of all truth- not your roller coaster emotions, your heart that leans toward sin, and your feeble understanding of the big picture.
Does God Care about My Feelings?
Absolutely, yes, 1000%!
You only have to think about Jesus and the way He lived His life to know how much He cares for you- body, mind, and spirit! The way He expressed His emotions prove it.
Jesus, with joy, endured the cross and all its shame, wept with sadness, was furious over injustice, and loved His Father and His people. He showed incredible compassion for the hurting and the sick.
He covers us with the same love and protection every day.
How to Deal with Emotions Biblically
Our emotions and feelings are sometimes messy, complicated, and hard to control. And yes, while we need to pray and trust in God, please don't think He will erase them in a "magic wand- my feelings and emotions will disappear" kind of way.
It means we "pray and trust" by expressing what we are feeling to our God whose love for you is "as high as the heavens are above the earth." Psalm 103:11. (As in: infinity!)
It is believing in our hearts that He is "close to the broken-hearted and saves those who are crushed in spirit." Psalm 34:18 NIV. He sees you and hears you and saves you.
We will wrestle with our emotions and feelings all our lives, but we can get a handle on them. It's not a Bible verse per se, but every morning I pray "Lord, don't let my emotions derail your purpose or cause me to stumble." I want to deal with them in a healthy way and not let the enemy wear down my confidence, bring to mind past mistakes, or discourage me.
Trust God to help you work through your feelings, knowing He is working in you to become more like Jesus every day.
"My flesh and my heart may fail, but God is the strength of my heart and my portion forever." Psalm 73:26NIV
Blessings!
AnnMarie
I put some of the verses in a printable form; just click on the image to access it!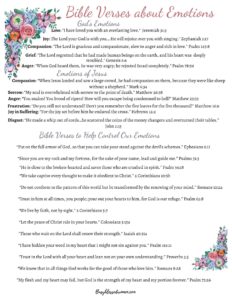 Photo Credit: Pixabay