Some call the Book of James the "how-to" book on Christian living. His focus is on how to live out an authentic faith. He tells us reading and studying God's Word alone is not enough and gives us a very straightforward command: "be doers of the Word." How can we live out James' directive?
What is a Doer?
How would you describe a "doer"? I think of the "busy bee" type- that person who enjoys doing a lot of things and always getting things done; someone filled with energy.
The Greeks described a doer as a maker, producer, performer, or one who obeys the law or performs what is required.
James' meaning, however, of "doers of the word" is more specific- to perform what the Word says, to obey its directives.
Doers of the Word Bible Verse
Let's look at the entire verse to see what James has to say about being "doers of the word."
James 1 Verse 22
"But be doers of the word, and not hearers only, deceiving yourselves." NKJV.
Since people in Bible times didn't have the written word as we do today, they listened to a teacher or rabbi who read the scrolls and preached to them.
Today we not only listen to sermons, podcasts, and audible books but have the Word of God in print and digital forms. We have Bible Studies in person, on-line, and for personal use.
James' point was that hearing/reading/studying God's Word on its own is not enough. Action needs to follow this time of listening.
Hearers of the Word
Notice that James says, "not hearers only." It is of the utmost importance that we hear (read, study) the Word.
However, those who "only hear" deceive themselves. They think "being in the Word" is enough.
Hearing a great sermon/podcast/lecture from God's Word and never putting it into practice is shirking our responsibility.
Something to think about: Our responsibility as those who have heard is far greater than those who have never heard!
Bible Verses about Hearing the Word of God
Paul addresses hearing the Word:
Romans 10:17
"Consequently, faith comes from hearing the message, and the message is heard through the word of Christ."
We can't believe in something we've never heard of. We can't know God or His Son unless we hear their words.
Once we hear the gospel message and our heart receives it, the power of the Holy Spirit works to begin our faith walk.
Jesus clarified that hearing the word of God should lead to bearing fruit in our lives. He gives us the Parable of the Sower (Soils) to explain:
Matthew 13:23
"But the one who received the seed that fell on good soil is the man who hears the word and understands it. He produces a crop, yielding a hundred, sixty or thirty times what was sown."
When a farmer sows seeds (the Word of God) on good soil (a receptive heart) the result is a plentiful crop.
The lesson from the parable was this:
We need to hear His Word and be receptive to living it out and producing fruit in His name.
Build Your House on the Rock
Jesus gives a dramatic illustration regarding hearers of the Word and those who obediently take one step further to do His Word:
"Not everyone who says to me, 'Lord, Lord' will enter the kingdom of heaven, but only he who does the will of my Father who is in heaven…" Matthew 7:21
Jesus knows the difference between who can talk a great game and those whose walk matches their talk…
He explains further:
"Everyone who hears these words of mine and puts them into practice is like a wise man who built his house on the rock." Matthew 7:24.
Hearing and doing is our firm foundation. Obeying His directives keeps us safe when the storms of life come and beat down upon us. These storms will not shake our firm foundation.
Hearers only, however, are like those who build their house on a sandy foundation. The house will fall when the storms come.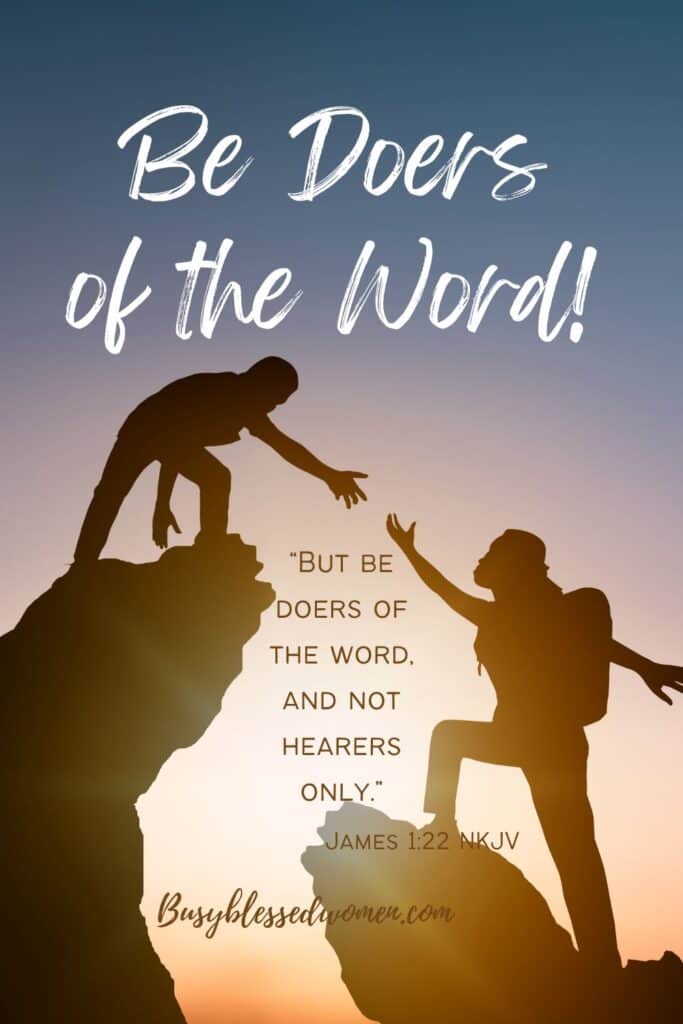 Doers of the Word Meaning
James gives us illustrations on being doers of the Word in James 1:23-25. He begins by telling us how we are to receive the Word of God.
James Mirror Passage
"For if anyone is a hearer of the word and not a doer, he is like a man observing his natural face in a mirror; for he observes himself, goes away, and immediately forgets what kind of man he was." Vv23-24. NKJV.
Those who only hear His Word look at themselves in a mirror and then forget what they saw. They hear the Word, but it makes a zero impact on how they live their life.
The word "observing" in this verse translates as "careful scrutiny." This verse also pertains to those who carefully study the Bible but do nothing with their knowledge and insight.
James 1:25
"But the man who looks intently into the perfect law that gives freedom, and continues to do this, not forgetting what he has heard, but doing it- he will be blessed in what he does."
What is this perfect law James is talking about?
"The perfect law that gives freedom" is another way to describe the Word of God. His Word gives us freedom by pointing out sin in our lives. We then have an opportunity to confess and be forgiven.
I love that we are promised blessing when we continue to study His Word and put it into action!
Examples of Doers of the Word
Our saving belief in Jesus causes us to behave differently. Our hearts are one with Him and His values.
James gives a few examples of how to be doers of the Word:
●He begins with a plea to be "quick to listen, slow to speak and slow to become angry." v19
A lot of anger comes from being centered on ourselves. Anger doesn't bring out the best in us or the righteous life God desires.
Being a good listener and valuing other's ideas and viewpoints is the opposite of self-centered behavior. It is putting others above ourselves.
●He asks us to get rid of anything in our lives that we have accepted from the world that is not from God.
●Being a doer of the Word includes keeping a "tight rein" on our tongues, and,
●To care for orphans and widows.
●Being a doer of the Word involves simple and practical ways that mirror Jesus' life.
A "doer" helps the needy, visits the lonely, and expresses the love of Christ to others. It is a genuine lifestyle of serving others that expresses our faith.
●Live in the World but not of the World
James wants to keep ourselves from being polluted by evil (James 1:21). How do we live in this world that is not our home?
Paul tells us not to conform "any longer to the pattern of this world but be transformed by the renewing of your mind.
Then you will be able to test and approve of what God's will is- his good, pleasing, and perfect will." Romans 12:2.
We must work daily to renew our minds- focusing on God's Word and our relationship with Him so that we can continue to be "doers" of His Word.
●Corrupt and selfish worldly behaviors are off-limits for us. We must avoid popular culture and thinking that goes against our faith.
Our saving belief in Jesus causes us to behave differently. We think and act differently than the world.
Do The Word
Jesus describes the judgement of the nations in Matthew 25:31-46. All people will gather before Him when He comes again.
He will separate the people into two groups as a shepherd does- His sheep and the goats.
(Note: Our choices to perform good works don't bring us a saving faith but show the effect our salvation has on our hearts.)
His sheep receive their inheritance and blessing of entering heaven. What criteria did Jesus use? He says:
When I was hungry, you gave me something to eat.
When I was thirsty, you gave me something to drink.
I was a stranger, and you invited me in.
I needed clothes, and you clothed me.
When I was sick, you looked after me.
When I was in prison, you visited me.
It surprised the sheep to hear this- they didn't remember doing any of these things. Jesus responds:
"I tell you the truth, whatever you did for one of the least of these brothers of mine, you did for me." V40.
Hearers and Doers of the Word
Jesus is asking us to show mercy to anyone in need. We don't have to be rich, uber-intelligent, or physically strong to care for the needs of others.
We only need a receptive and willing heart. If you are serious about being a "doer", pray for a willing heart.
Be so sure of God's all-embracing and precious love for you it overflows onto others.
Being a Doer of the Word
James is asking us to listen to God's Word and show a sincere commitment to what it says by taking action. Take His love that He has poured into you and put it into practice.
Serve anywhere there is a need. By doing so, we glorify God by reflecting our love for Him.
Unsure where to start? Start in your own home, workplace, church, and close relationships.
Then get creative- love on the grumpy store clerk, the driver who just cut you off, the extra chatty old person holding up the line, or even your enemy. ♥
Reflections:
How do you respond to "the least of these"?
How can you tell if God's Word has taken root in your heart?
Rate the effectiveness of your Bible study time by the effect it has on your behavior and attitude. What positive changes do you see?
Is there anything in your life (worries, fascinating hobbies, busyness) that cause you to be a "hearer only?"
As you read the Word this week, ask for a real understanding of what you read and how you can apply it to your own life to serve others. This is a lifelong approach that needs to be our priority.
"We know that we have passed from death to life because we love our brothers. Anyone who does not love remains in death. This is how we know what love is: Jesus Christ laid down his life for us. And we ought to lay down our lives for our brothers. If anyone has material possessions and sees his brother in need but has no pity on him, how can the love of God be in him?" 1 John 3:14,16-17
Blessings of Doing!
AnnMarie
All Scripture is taken from the NIV unless specified otherwise.
Photo Credit: Canva