Please bear with me this week as we tackle a topic in a different way. I'd like your help with something that has been on my mind of late- angels in our lives. (More on the "why" later…) I rarely give much thought to them.  When I was in elementary school, our teacher instructed us to slide over in our desk seats to "make room for our guardian angel." I used to love sleeping under this picture at my Grandparents' house. It made me feel safe.  Back when I was afraid to fly (I'm better now), I used to pray for God to send his angels to protect my plane and flight. Seriously. But beyond that, I wouldn't say I give them such consideration.
Do you?
What Does the Bible Say About Angels?
Just to keep everything in perspective, let's look at just a few things that the Bible says about angels.
God Created Angels
They are a spirit, not human, but can take on human form when God appoints them to certain tasks. They are a separate created being.  We do not "become angels" in heaven. They neither reproduce nor marry (Mark 12:25). We don't know for sure how many there are but see that "ten thousand" came down on Mount Sinai with God when he gave Moses the Ten Commandments.  John hears the voices of angels that were too numerous to count singing around God's throne in Rev 5:11.
Angels Are Messengers
The word angel comes from a Greek word which means "messenger." God sent angels to communicate his will to humans. We read about them in this way in their conversation with Abraham and Sarah to announce her pregnancy, to a discouraged Gideon, and also to Mary, Joseph, and the shepherds regarding the birth of Jesus.
Angel's Protection
Psalm 91:11- "He will give His angels charge of you, to guard you in all your ways," and Hebrews 1:14 speaks of angels as "ministering spirits sent to serve those who will receive salvation."  Psalm 34:7- "On every side, the Lord's messenger protects those who honor God; and he delivers them."  I find this so comforting!
God Sends Angels
While believers prayed earnestly for Peter in prison, an angel appeared, woke Peter, and the chains fell off his wrists. The angel then walked Peter right out of the prison. (Acts 12:1-17). This was a miraculous escape. My Christian world view tells me miracles still occur today. Could angels in our lives be working at the requests of God?
Angels Rejoice
"There is joy before the angels of God over one sinner who repents." (Luke 15:10) Certainly, they are also filled with joy when they praise and worship God!
Angels Worship God.  
The prophet Isaiah had a vision of God on his throne with angels calling "Holy, holy, holy is the Lord Almighty" (Isaiah 6:2). "Multitudes" of angels praised God after they gave the shepherds the message of Jesus' birth. John records many instances of angels singing songs of praise to God in Revelation.
Angels Taking a Soul to Heaven
We're not sure exactly what happens at the time of death. Jesus told a parable in Luke 16, however, of a beggar who had angels caring for him and escorting him to heaven at the time of his death. He died and "was carried by the angels to sit beside Abraham at the heavenly banquet." (v22).
This brings me to the reason why they have been on my mind of late.
My dear mother-in-law passed away from a sudden illness recently. The day before her death, the steam from my shower revealed this on the bathroom window: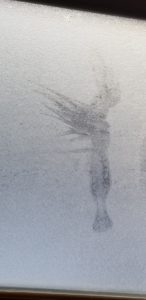 Am I trying to read something out of nothing? I tried to rub this off the window, but I realized that it was on the outside of the glass. This is a high second-story window with a screen protecting it. I cannot imagine how it got there. We've lived in this house for 28 years. Nothing like this has ever happened before. It looked like an angel to me.
It's still there. So every time I take a shower I see it.
Now I don't know if an angel left their imprint on my window to reassure me they were near.
But here's what I am sure of:
The Bible is the divine word of God. Every word is God-ordained.
Therefore, I believe in angels, because their creation, works, service, and worship of God are noted many times in scripture.
Role of Angels in our Lives
God is the same yesterday, today, and forever. (Hebrews 13:8) He used angels in powerful ways in the past and I reason that he still does so today.  Angels in our lives today are a possibility.
God alone instructs and commands them. We should not be asking them for anything or praying to them.
I trust that God is at work in my life and I lean on his Holy Spirit within me. That is enough, yet I realize He works in ways I can't see or comprehend. I'm convinced that a spiritual realm exists.  I pray daily for the strength to resist the devil who was a fallen angel.  That makes me aware that I should also give thanks for the blessing of angels working on my behalf.
This isn't my typical blog post. I'd actually like to hear from you as I'm struggling a bit with how to go forward on the topic. Do you give any thought to angels? Have they served or ministered to you? Do you have any verses about angels that speak to you personally? I read many miraculous stories while doing my research on angels. I would love to know your thoughts on this subject. You can comment below. Thank You!
Blessings!
AnnMarie