I'm old school. I save all my old calendars, so in case I need to know what week my child went to camp 20 years ago, I could find out. Truly useful information also shows up on my calendar, such as annual physical and dental appointments. Maybe you have other annual events on your calendar; performance reviews at work, or meetings with your tax consultant, for instance. I'm going to suggest another positive event to add to your list- an appointment to improve your spiritual health.

A Spiritual Review
The great thing about reviewing your spiritual health is that:
A) You don't ever need an appointment; God's always on call just for you,
B) It's totally private, just between you and God, and
C) You decide on the outcome. No doctor here telling you to lose weight/exercise more or dentist telling you to floss more often. You reflect and decide where changes might be necessary.
One caveat, however, and that is you have to be totally honest with your answers. Take time to think through each question.
There will be some that you find you're doing pretty well at. There might be some that make you cringe, and some may surprise you. The idea is not to produce guilt but to think about how you are living your life as a follower of Jesus.
I will leave it to you as to how you want to answer these questions. Maybe you want to reflect on just a few at a time and stop when you feel led to think a bit deeper. Yes and no answers work. So does a number system.
Maybe think about where you are in terms of heading in either a positive or negative direction for each area. Do whatever works for you!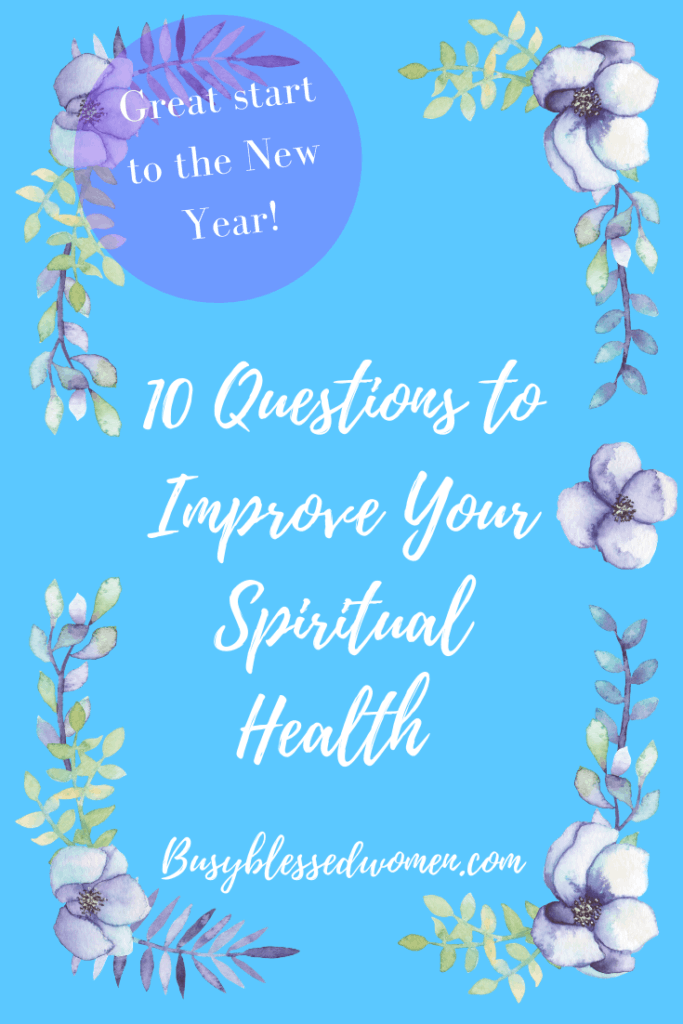 Be sure to pin me for later!
Loving God and Loving Others
I'm basing my questions for this spiritual review on Mark 12:30: "Love the Lord your God with all your heart and with all your soul and with all your mind and with all your strength. The second is this: Love your neighbor as yourself." Jesus distilled down all the laws and commandments into these two things: loving God and loving others.
Ok, let's begin a review on how to improve your spiritual health!
Loving God
1) Are you daily in His Word? Not just reading, but studying and learning? It's quality over quantity in the time spent. Quality time reaps the greatest benefits, which are the insights He gives.
2) How is your prayer life? How much of your day is invested in speaking and listening to God? Compare your time spent talking to God with the time you spend talking with friends/family.
3) What does your worship of God look like? Does it bring you closer to Him or do you find yourself just going through the motions?
4) Are you aware of and actively working on mastering the sin in your life? We all have our own personal issues with sin. Identifying them and asking the Holy Spirit to help us overcome them is a healthy spiritual habit.
5) Is there anything you hold back from God? Do you hold on to your time, finances, worry, gratefulness, or forgiveness? If you are feeling stressed, fearful, unhappy, worried, etc, then release yourself of these heavy burdens and give them to God. He'd love to take them off your hands and minds.
Loving Others
1) What is your attitude toward giving? Are you keeping up with your tithes and offerings? Do you volunteer your time and/or goods to those less fortunate?
2) How do you show your love for others? God shows us his grace and love daily. Do you extend that same grace and love to others without judgment?
3) What God-given talents do you have to share right now? They are unique to each one of us and God expects us to manage and use them for his glory and to bless others. Where do you share them in your church, community, and personal life?
4) Do your daily conversations with others (including social media and text messages!) reflect your relationship with Jesus? Are they uplifting or do they tear others down? Gossip, grumbling, sarcasm, etc are easy traps to fall into and can become bad habits.
5) How easy is it for you to forgive others? What about those difficult people in your life? We like to make the act of forgiveness a choice, but God tells us otherwise. He tells us that there is healing for us when we forgive. Can you leave the other person in God's hands?
Maybe I should add one more heading, and that would be "loving yourself." Not in a self-centered, worldly way. Biblical love is to be selfless and unconditional. But God made us in His image and lives in us. He doesn't want us to compare ourselves to others or withhold forgiveness to ourselves.
Right now, before you have even made one single change, God loves you more than you can even imagine. Pray now for his Holy Spirit to help you make the changes you need to be spiritually healthy. Ask him to illuminate the areas you need his help to overcome.
Growing healthy spiritual habits is an important part of our lives. We are called to grow! "Grow in the grace and knowledge of our Lord and Savior Jesus Christ" 2 Peter 3:18.
The world pulls us in directions that do not honor God. Our pesky sinful nature will always challenge us, no matter how "mature" we feel we are in our faith.
Satan knows exactly what areas to attack us. The only way to remedy this situation is to daily draw closer and closer to Jesus.
By going through a spiritual review and improving your spiritual health, you help yourself become closer to living the life God wants you to have!
Blessings!
AnnMarie