I recently heard the song "We Were Made to Be Courageous" by Casting Crowns. My first thought was "living a courageous life is not my strong point, Lord."
Maybe I inherited less of that gene or something. Maybe past hurts and insecurities keep me a little more on the fearful side. It seems we live in a climate where defending and expressing our faith can cause us to experience hostility and anger. Some people can respond quickly to defend their positions. Not me. I usually need to mull things over before I speak or take action. And don't we all have doubts sometimes? Even though He made us to be courageous, he knew we would need encouragement too.
Stories of Courage in the Bible
Thankfully, God gives us many examples of how to conquer our fears and stand strong and live a courageous life for Him. Here are just a few examples to boost our confidence-
Joshua
God chose Joshua as the leader of the Israelite's after the death of Moses. Does the verse "be strong and courageous" (Joshua 1:9 NLT) sound familiar? God commands this to Joshua three times as he entrusts him with leading his people. He is not telling him to just "buck up and lead." He gives him great reasons to have courage. "I will not fail you or abandon you" (Joshua 1:5 NLT) and "The Lord your God is with you wherever you go." (Joshua 1:9 NLT)
Be Courageous! We can trust in His promise to always be by our side.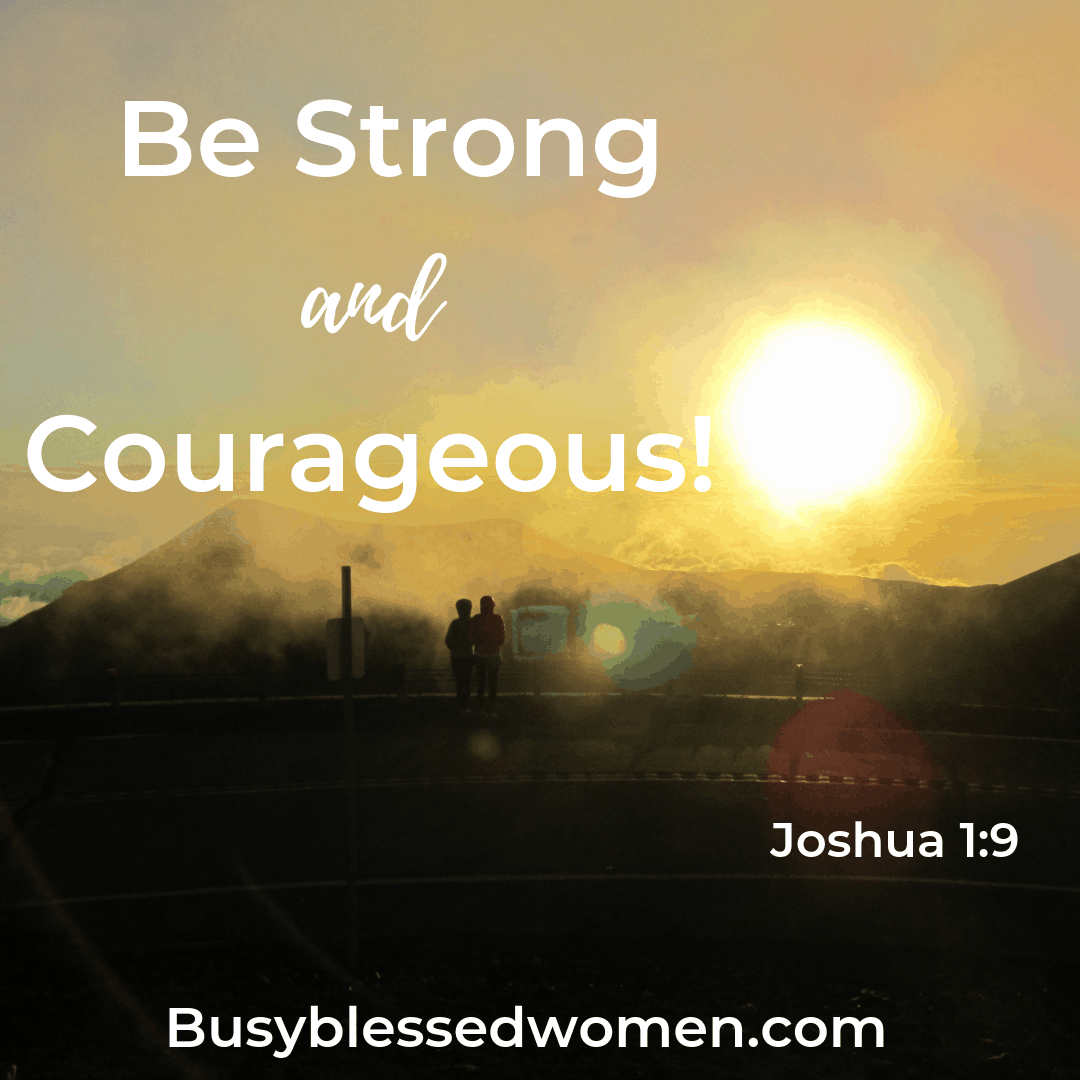 An Angel Visits Mary
Mary was "greatly troubled" when an angel showed up in her home. And no wonder! She was a young virgin, recently engaged, and had just heard the news she would give birth to the Son of God. The angel comforts her with the words "Do not be afraid." (Luke 1:30 NIV)
He lays out God's plan for her and Mary's response to this seemingly impossible situation is willing acceptance. Mary's blessing as the Mother of Jesus also brought her problems. Joseph almost divorced her. Mary was likely the "talk of the town." But she accepted these outcomes to obey God's plan.
Be courageous! We can have courage when we trust God's plans and purposes in our lives.
Jesus Walks on Water
When Jesus walked on water in the dark of night, the disciples were terrified! He comforts and calms them with the words "Take courage! It is I, don't be afraid." (Matthew 14:27 NIV)
He tells them all is well; their Lord is the one walking towards them. Peter shows brief courage and faith by getting out of the boat. He sinks only when he takes his eyes off Jesus.
Spiritual Courage
Be courageous! Keeping our eyes on Jesus in the storms of life keeps us focused on Him, which gives us strength and courage. If we focus on the waves and wind, we may sink as well.
Each of these examples shows us that having courage means having complete confidence and faith in God's promises, power, and plans for our lives.
Not everyone is brave by nature. Even those wired that way have moments when life gets out of control. We can all have courage, however, when we trust in God's protection and guidance.
Paul gives us encouragement to be courageous by reminding us to rely on our relationship with God: "If God is for us, who can be against us?" (Romans 8:31 NIV) We are safe and secure in God's hands!
He also reminds us that God gave up the greatest sacrifice- his own Son- for us and NOTHING can separate us from the love of Jesus. We can be secure in him through these assurances. Draw courage from these assurances!
"For I am convinced that neither death, no life, neither angels nor demons, neither the present nor the future, nor any powers, neither height nor depth, nor anything else in all creation, will be able to separate us from the love of God that is in Christ Jesus our Lord." Romans 8: 38-39
Aren't those comforting words? Use them to cultivate more courage in your life.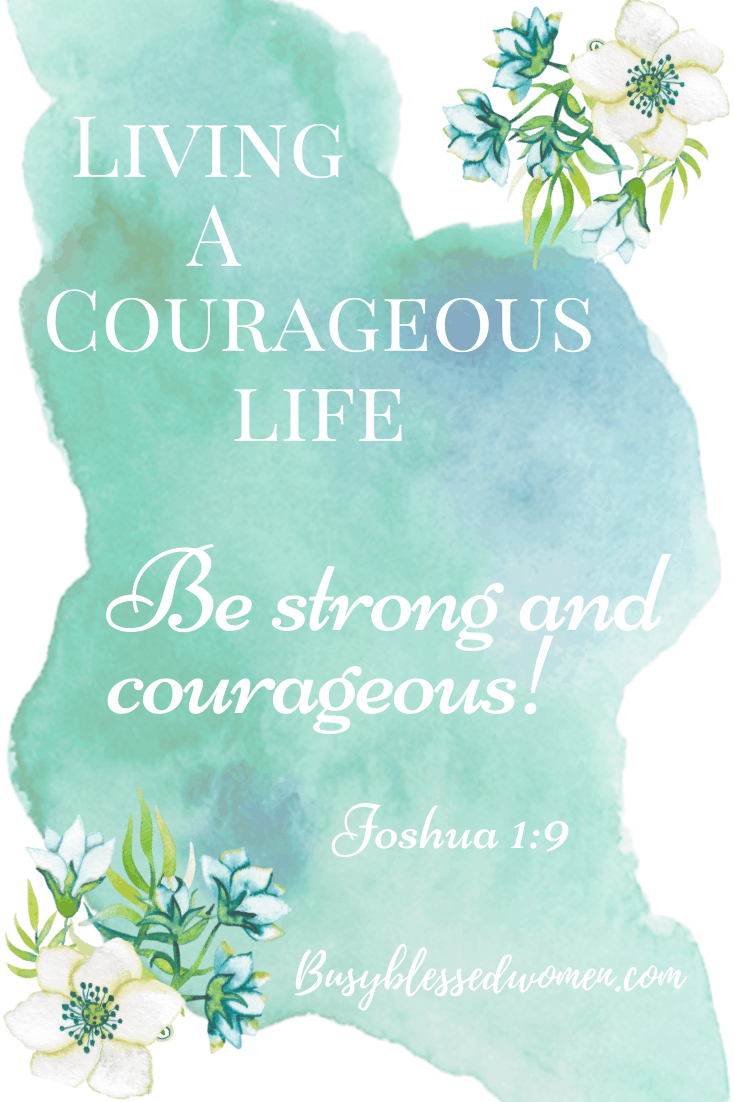 Pin me for later!
Fear Not
God commands us to have courage and gives us many reasons and examples to see why and how. The command "fear not" is used over and over in scripture! It seems obvious God does not want us to live our lives in fear!
Living a courageous life can also be a powerful expression of our faith for others to see. Facing your fears can also be empowering. Take baby steps if you must, but step out in faith when you are afraid.
Our life in Christ gives us victory over all things. Believe it in confidence and show it in your life!
Reflection:
What holds you back from living courageously?
Which of the above verses spoke to you the most?
What do you fear?
What promises of God have you seen worked out in your storms?
Comment below!
Blessings for a courageous life!
AnnMarie
All Scripture is taken from the NIV unless specified otherwise.